Jason Heyward on his hitting struggles and how a yoga instructor is helping him find his way
The Chicago Cubs' high-priced outfielder has re-tooled his swing and, perhaps more importantly, his mental approach in an effort to regain his confidence at the plate.

TOM VERDUCCI
MAY 23, 2017
CHICAGO—Two weeks after he gave one of the most famous speeches in baseball history, Cubs outfielder Jason Heyward departed for Arizona to try to put himself back together again. The best word to describe Heyward as a ballplayer was "broken." A .230 hitter during the regular season and a .104 hitter in the postseason, Heyward knew his swing needed repair. So, too, did his mind.

"One week after the [World Series championship] parade, I see this guy working on a back field at Sloan," said Darnell McDonald, a mental skills coordinator for the Cubs, referring to the team's spring training complex in Mesa. "One week after the parade! Now, if he's out there working one week after the parade, I figure I've got to go up to him and offer him any help I can give. And so we connected."

McDonald, despite his dreadlocked youthfulness at 38, is a wise baseball elder because of the cinematic arc to his life: Colorado high school record-holder for home runs and rushing yardage, first-round draft pick by the Baltimore Orioles in 1997, journeyman outfielder with six major league teams over 17 pro baseball seasons, PED offender, baseball operations assistant turned current mental skills coordinator, as well as an expert instructor in yoga, mindfulness and meditation.

If you had arrived at Sloan at dawn on almost any day during spring training, you would probably have seen Heyward and McDonald working out together in the low light and cool air of the morning, or perhaps just meditating.
"He was there all off-season, and it just worked out," Heyward said recently. "I hadn't done any meditation before. I thought, Am I going to be adding something else to think about? But it actually simplifies that and allows you to not think about too much."
Heyward pointed across the Cubs' clubhouse to Cooper Arrieta, the six-year-old son of Cubs pitcher Jake Arrieta.

"It's funny," Heyward said, "because a lot of the stuff they talk about is how you thought as a kid, like you're invincible, like Jake's son is sitting over there right now, and there's nothing he's afraid of. If he wants to try something he's just going to try. He doesn't care if he fails.

"That's kind of how you like to think as a baseball player. Just go up there and approach it that way and prepare your mind for that aspect of it—so you're not like Groundhog Day, on repeat. Just another at-bat? No. Everything with a purpose and with intentions. Just like you can work on your throwing and your defense, you work on your mind."

Hitting coaches John Mallee and Eric Hinske took care of the hitting. They re-tooled Heyward's swing, which had been an ugly, steep, overly-mechanical hack that belied Heyward's natural athleticism. Heyward had swung the bat like a malfunctioning metal wind-up toy. He re-gripped the gap while the pitch was on its way, wrapped the bat around his head when he loaded and cast the barrel away from his torso—all leading to a failure to get the barrel into the hitting zone on time.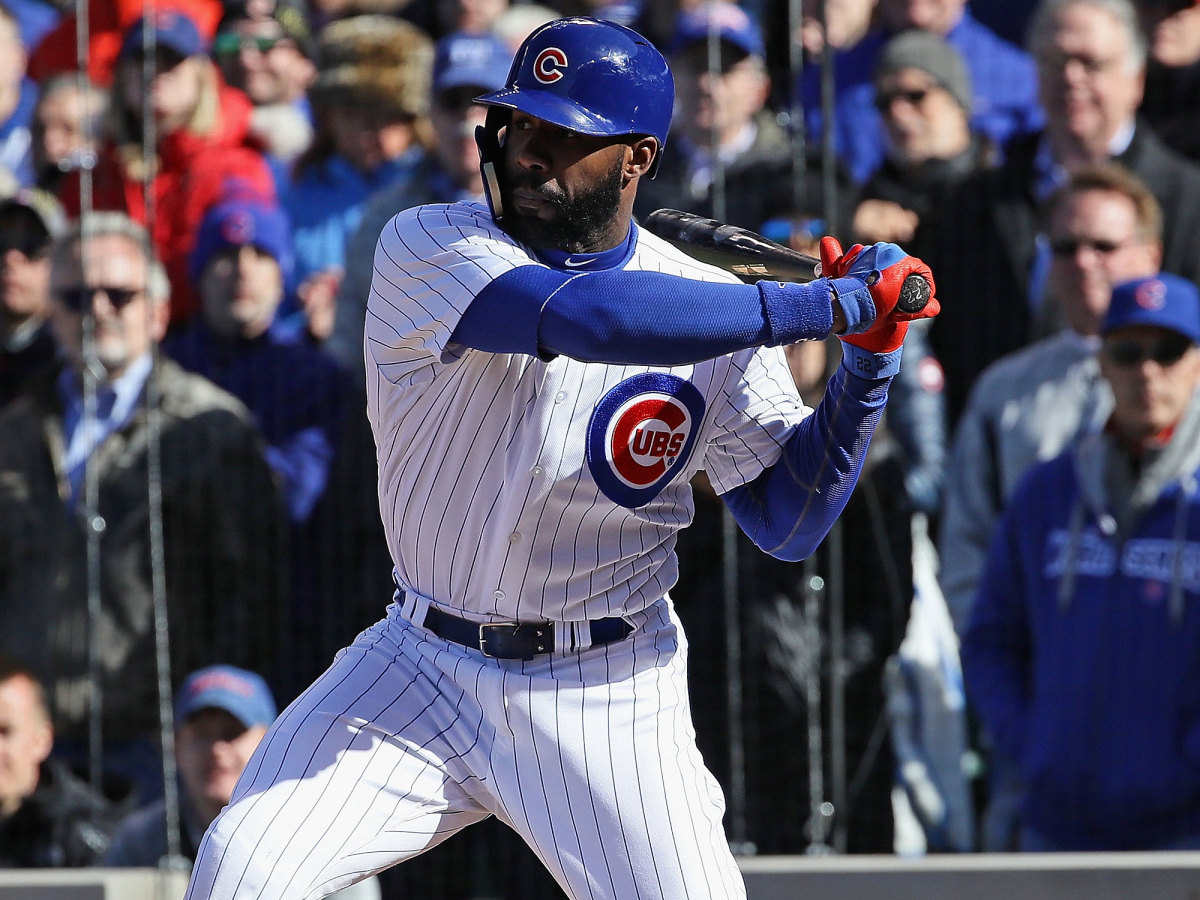 McDonald took care of his mind. He gave Heyward the tools to be peaceful at the plate. (Heyward said he still meditates during the season, though not on the daily basis he did in the off-season. Working out, he said, has become a kind of meditation for him.) He can feel the difference.
"It's a change from last year for sure," he said. "It didn't start off snowballing last year, but the more balls I hit hard became outs, and then you've got days you're not playing, it can begin to snowball.

"But now I've got nothing on that. It's back where I was before. I'm not afraid of anything. Whatever happens, happens."

Heyward is trying to be a kid again. He was 20 years old when he posted an .849 OPS as a rookie with the Braves in 2010. He hasn't hit that well since.

Heyward is a champion of diligence and a beacon of rectitude. He proves that every day, but never more famously than he did in that key moment of crisis for the Cubs, when rain stopped the seventh game of the World Series an inning after Chicago blew a three-run lead. Heyward thought beyond his personal gloom and called a team meeting that set the team right. It was such a gracious moment that Cubs president Theo Epstein used it as his key point of emphasis when he gave the commencement address at Yale on Sunday.
But diligence and rectitude don't especially help get the barrel of the bat on time to inside fastballs, the steady diet of pitches that reduced Heyward's tin-metal swing to calamity last year. And his winter of dedication has not yet made him much better at the task.
This season Heyward is hitting .257 with four home runs, the most recent of which came Tuesday night in a win against the Giants. It's beyond baffling that the man blessed with his size (6'5", 240 pounds), speed and strength—all of which helped him hit 33 doubles two years ago—has just one double in 123 plate appearances this season.
Even with his re-tooled swing (he holds his hands lower, trying to eliminate the bat-wrapping and to be quicker to the ball), Heyward can't hit a good inside fastball. Against such pitches at 92 mph or better he hit .271 two years ago, .200 last year and, through Monday, he was at .125 this year (1-for-8). His overall average exit velocity had inched up from 88.8 to 90.9.
The surface truth is that Heyward still isn't completely fixed. He's a bit better than last year, but he's still a corner outfielder slugging just .394 and making $21.5 million as part of an eight-year, $184 million contract he signed before last season.
The deeper truth is that change isn't so easy, even though it's the American myth to think a new leg kick, a new stance, a new pitch, a gluten-free diet, a juice regimen, or some such one simple trick will produce instant betterment. It could be true that McDonald, Mallee and Hinske have made Heyward better in a holistic kind of way, but the results just aren't there yet. Maybe they will come, maybe they won't.
Then-teammate Brian McCann said at the time, "He might be the best 20-year-old rookie ever to play." Said teammate Chipper Jones, "There are only a few players in the game that when the ball comes off their bat you go, 'Whoa.' He's one of them. Pitchers will stop pitching to him. And when they do he won't expand the strike zone. He'll walk 140 times. It's not a question of if he will be a star but a question of when."
But if you looked closely, beyond the size and athleticism, something about Heyward as a ballplayer was askew even then. Technically, his swing, with its steepness and length, was askew.
I wrote this for an SI story headlined "Legend Before His Time" during his first month in the big leagues:
Heyward doesn't so much swing as slash, bringing his hands down to the ball and then flat through the strike zone. Like a purely struck 1-iron, Hayward's blasts are line drives with backspin. His home runs don't so much soar as they scream and climb.
Heyward was hitting with athleticism, which was fine when youth and the advantage of being unknown were on his side. But athleticism can't always carry a hitter with a technically poor approach, as fellow outfielders like Carl Crawford and Jeff Francouer have proved in recent years. Heyward may be in that same class. But I wanted to get his take on why he never improved much, so I asked him where his career began to get off track.
"Hitting-wise I feel like every season is different. It's weird," he said. And indeed, I've pulled video from each season and Heyward never looks quite the same twice; his stance is open and then it's closed; his hands are high and then they're low; his knees are bent and then they're not.
"I feel like when you're young you learn yourself [better]," he said. "I feel the biggest adjustment was going from 2010 to hitting second for the latter part of that season, one down year because of injuries, and in 2012 finishing the year batting third, and in '13 it was 'We want you to hit second and then leadoff.' So that's a different mindset, and I feel like Mallee and I talked about that at the end of spring training this year: 'Hey, you've been less aggressive over the years as of late.' And I was like, 'I also moved up in the lineup, so it was like I was being what I thought a leadoff hitter should be, and that gradually took me away from being aggressive—not go up there and take your hacks.' That's no excuse. It is what it is.
Once upon a time, McDonald was Heyward. Like Heyward, he was an outfielder and an amazing athlete—the best in his high school-eligible draft class—who commanded a huge signing bonus ($1.9 million, even more than the $1.7 million Heyward would get a decade later). But McDonald, plagued by poor plate discipline, never hit much. He batted .269 over almost 1,500 games in the minors and .250 in 331 major league games before retiring at age 34 to take the job with the Cubs. It was toward the end of his career, when he searched for ways to deal with stress, that McDonald discovered yoga and meditation. The help for the mental side of the game came too late for McDonald, which is why he shares such knowledge with players such as Heyward.
Heyward is judged harshly by his contract. George Steinbrenner used to make the mistake of expecting more from players because he overpaid them—Ed Whitson, Kenny Rogers, et al. Money doesn't make the player. The player makes the money.
"I'm glad I got to be there and be a part of it," he said of the Game 7 soul-searching team meeting he convened in the weight room at Progressive Field in Cleveland. The Cubs came out a different team than they had been going in and promptly won the game in the very next inning.
"We were us. That's all we can be—is just be us," he said. "We don't know what's going to happen. Whatever we got to do, just be us, and let's see where that gets us.
"And that's what we did all last year."
Heyward helped his team win the World Series. Now McDonald is helping Heyward find himself. The numbers still don't show it, but Heyward knows he's getting better.
"You approach it how you can approach it and that's the best you can do," he said. "You know you're prepared. You know you put the work in. Don't think. Don't feel too much. Just go up and try to do it. Be aggressive and try to have fun."
---